A recap written by Lee Sonogan
Originally published on entertainmentcultureonline.com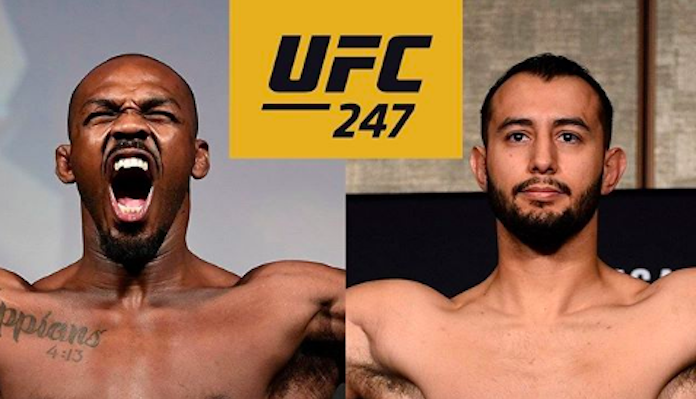 Confidence, arrogance and high stakes from both sides. With the light heavyweight title on the line, two winning streaks will clash for dominance in this division. 16 wins in a row from the champ vs a fighter who has never lost in his perfect UFC career. Dominick Reyes has a skill set to match many fighters but never has fought someone quite like Jones. Jon Jones reign is aiming to make a new record of championship defensives, and Dominick is the threat that could make his name set in stone at his expense.
The Tale of the tape is near equal in all areas except reach. Jon Jones longer limbs have the ability to land at all angles. Not seeing many Dominick fights, he has to play it smart getting close and using circling to his advantage. Looking at some highlights he certainly has the power to do it if his game plan puts everything together.
Win/loss records are Jon Jones 25 – 1 – 0 to Dominick Reye's 12 – 0 – 0
Getting at each other right away, they back off mid-range for various kicks and exchanges. Then Dominick finds his range early pushing forward. Switching up his footwork his ability to showcase his striking skills. By the end of the round Jones slowly found his timing to get some of his stuff in. Round two and both competitors keep up their pace with solid blows. Dominick using up the energy with his movement, Jones blocks remains very professional.
The last three rounds are to go and it is testing the endurance of Dominick (With a busted lip) staying strong. Both are putting on pressure making it dangerous to engage. Eating shots, Jone's boxing is improving as he advances. At the end of round three, it is looking to potentially go the distance. Clinching in the new round, cardio allows for the transitions to not give up. In the deep waters, Jones looks the fresher out of the two.
Twenty minutes down, five to go. Non-stop motion to the very end, both stay on their feet, leaving the results to the judges. Predicting how they will score, will Jones experience just reach the higher score? It is too close to call for the average viewer to keep track. 49-46, Jones keeps his belt, after being pushed like never before.
I was very entertained with this evenly matched contest. Dominick Reyes proved that he can go toe to toe against anyone, and contain the calibre to fight against the best in the world again. The decision of the first three rounds could have been interpreted as his although the wrestling of Jones may have saved him for the overall score. Regardless, the scoring system needs some working on so the fighters don't have to adapt to the conflicting judgement.
7.85/10
https://www.patreon.com/GROOVYGORDS
https://entertainmentcultureonline.com/