A tv show review written by Lee Sonogan
53min (2014-) Crime, Drama, Thriller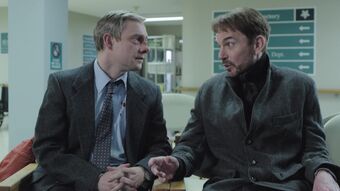 You don't have to have seen the original Coen film to enjoy this series, nor does it spoil anything for you if you have seen it: the new TV-show 'Fargo' is entirely its own beast. So far, the only thing the series and the film do have in common is the title and the (fake) premise that both are – allegedly – based on true events that happened somewhere in Minnesota. – gogoschka-1 (IMDB – 9/10)`
Why only season 1? Because it is the only one I have seen and trying to get into season 2 I ended up stop watching. Before I can muster the extended story based on this original, I desired an excuse to write about it anyway. Starring Billy Bob Thronton and Martin Freeman, their performance art is beyond anything else they have done. Re-watching this season, the genres blend into a psychological thriller of a killer who murders by pure persuasive technique alone.
Super serious in character development, their one-off scenes of Lorne Malvo one-off packed full of dark humour. Elaborating, the 1996 original script was a black comedy written, produced and directed by Joel and Ethan Coen. This particular style now by Noah Hawley is suspenseful enough where the unpredictability of scenes surprises you!
Referencing only season 1 and the other seasons within reviews wary of complete changes to plots, I still consider this one of the best shows to consume. The twists and turns are as engaging as it creative and intriguing dialogue. It stands tall from its foundations and not overshadowing its delivery at any key or important point. I highly recommend binge-watching for a treat that is something one of a kind in my humble opinion.
8.9/10
From the very start, from the opening shot of the cold dark icy road and the background music starting to play, I knew this would be something different, something awesome. – ljs3799 – (IMDB – 10/10)
https://entertainmentcultureonline.com/