A movie review written by: Lee Sonogan
1hr29min(2017) animation, action, adventure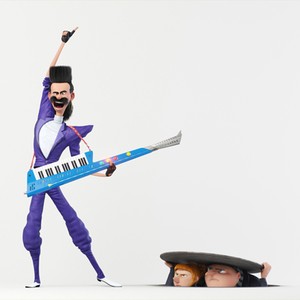 Dru: Face it, Gru! Villainy is in your blood!
With a budget of $80 million it made $1.035 billion at the box office. IMDB desribes this animated movie as Gru meets his long-lost charming, cheerful, and more successful twin brother Dru who wants to team up with him for one last criminal heist. Sometimes watching a kids movie is worth it if you're doing it to see one person. This movie was watched because I wanted to see Trey Parker's voice acting in it. The film was shipped to cinemas under the Pseudonym, Double Bubble.
This movie stars Steve Carell, Kristen Wigg and Trey Parker as the main voice actors. Steve Carell has said that Despicable Me 3 may be his last film as the voice of Gru. However, Carell stated that if he was asked to do a cameo in any future Minion sequels, he happily would. With being the third highest grossing film in 2017, the Minions franchise will continue to live. This is the first Illumination Entertainment film to be produced in a 2.35:1 widescreen aspect ratio.
Even though I have seen Despicable Me 1 and 2, this new one was nearly as bad even with Trey Parker in it. That is ok because I am not a part of the target audience this movie was going for. For the humour and story it fell flat and a lot of it just did not make logical sense. Not much of the family reunion story made and impact. Parker who voiced Balthazr Bratt was able to create any interest for me. The ending was a typical kid's movie ending. I recommend this animated movie to fans of the original kids movie and fans of those minion characters.
5.4/10
Gru: You told me my father died of disappointment the day I was born!
Here are some links to my book for sale: